Gigabit Fibe™ is here
Internet at the speed of light
We're excited to bring you Gigabit Fibe* — our fastest Unlimited Internet plan ever for your home.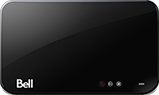 You'll also get Home Hub 3000, our most powerful in-home Wi-Fi.3
Use your phone or tablet to manage who can access the Internet and when.
Set up guest Wi-Fi to share your Internet with visitors without sharing your whole network.
Recover your password at the simple push of a button.
View additional details
Service available in select areas. Residential customers only. Unlimited Internet is subject to our Internet Use Policy and visit our Fair Use Policy for details on our network management practices. Fibe is a registered trademark of Bell Canada.
Actual speeds may vary and are not guaranteed. Maximum speeds can only be obtained on a wired connection. Many factors affect speed such as location, customer equipment, simultaneous use of Fibe TV (if applicable), topographic and weather conditions and network management.
Promotional price is for 3 months and may revert to then-current pricing. To change your plan after the 3 month promotional period, call 204 225-5687.
Our most powerful Wi-Fi is exclusive triband technology and market-leading 12 antennas.