Gigabit Fibe™ is here
Internet at the speed of light
We're excited to bring you Gigabit Fibe — our fastest Unlimited Internet1 plan ever for your home.
This plan is only available on our Fibre to the home network.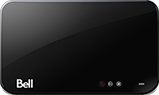 You'll also get Home Hub 3000, our most powerful in-home Wi-Fi.
Use your phone or tablet to manage who can access the Internet and when.
Set up guest Wi-Fi to share your Internet with visitors without sharing your whole network.
Recover your password at the simple push of a button.
First 24 months
$ 110/mo.3
Current price $129.95/mo.
Prices subject to increase after promo.
View additional details
(1) Use of the service, including unlimited usage, is subject to compliance with the Bell MTS Terms of Service; bellmts.ca/legal.
(2) Speeds on the Internet may vary with your technical configuration, Internet traffic, server, your environmental conditions, simultaneous use of Fibe TV or IPTV (if applicable) or other factors. Total download speed up to 940 Mbps. Upload speed up to 940 Mbps. A wired connection and at least one additional wired or wireless connection are required to obtain total download speed. Maximum upload speed can only be obtained on a wired connection. Today, the average maximum speed most wireless devices can enjoy is between 150 and 300 Mbps. With Gigabit Fibe, you'll ensure more of your devices can perform at their best, at the same time.
(3) Pricing is based on continued subscription to: Gigabit Internet at $129.95/mo. less $19.95 credit for first 24 months; current price: $129.95/mo. Any change made to services may result in the loss of credits or promotions, as eligibility conditions may vary. Except as otherwise stated, your bundle discount will not be applied during any promotion or combined with other offers. Only available to customers who have not had Bell MTS High Speed Internet in the last 3 months.
Fibe and Bell MTS are trademarks of Bell Canada.