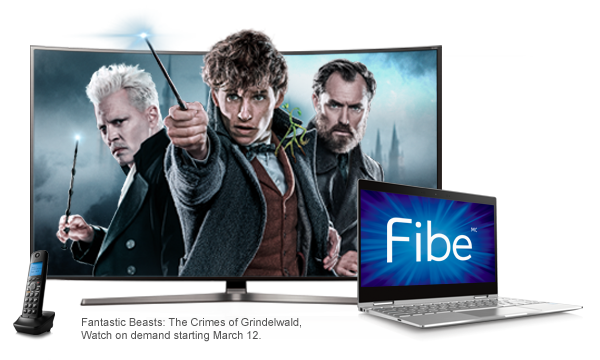 Fantastic bundle.
Fantastic price.
$80/mo. for the first 6 months.
Prices subject to increase after promo.
Call us at 1 800 331-0433
Fibe TV1
Our Basic Pack with local news, sports and major networks, plus 6 popular channel groups.
Restart from the beginning shows in progress or watch a show from the past 30 hours, even if you just tuned in or forgot to record.
Watch or record up to 4 live HD shows at the same time.
Fibe Internet2
Up to 50 Mbps download speeds.
Never worry about Internet overage charges with unlimited Internet.
Free in-home Wi-Fi and Internet access at all Bell MTS Wi-Fi hotspots.
Home phone3
Home Phone Essentials package includes Call Display, Call Waiting and Call Waiting Plus.
Reliable home phone service you can count on.
First 6 months
$ 80/mo.4
Current price $222.85/mo.
Prices subject to increase after promo.
View additional details
Current as of April 1, 2019.
(1) Price includes 2 wired set-top boxes and a Whole Home PVR. Additional wired set-top boxes $3/mo. Additional wireless set-top box $6/mo. Restart on Fibe TV available with select channels/content, excluding U.S. networks and non-local content, and subject to viewing limitations. Whole Home PVR required.
(2) Actual speeds may vary and are not guaranteed. Many factors affect speed such as location, customer equipment, simultaneous use of Fibe TV (if applicable), topographic and weather conditions and network management. Upload access speeds will vary depending on the distance between the customer's modem and switching equipment from Bell MTS. Get up to 5 Mbps upload speeds. Fibre to the home customers can get up to 50 Mbps upload speeds. Use of the service, including unlimited usage, is subject to compliance with the Bell MTS Terms of Service; bellmts.ca/legal.
(3) Geographical restrictions and other conditions apply. Not available where CRTC-regulated. The Home Phone Essentials Plan is comprised of two components: a Residential Voice and Feature Bundle Lite and the Home Phone Essentials Long Distance plan. The Residential Voice and Feature Bundle Lite includes a waiving of the installation charges, excluding jacks, associated with regular home phone installations or transfers of service provided you keep the plan for a minimum of 90 days. If you cancel or become ineligible for the plan within the first 90 days, you will be responsible for repaying such installation charges. New jack installation fee of $40 per jack. In order to be eligible for the Home Phone Essentials Long Distance Plan, you must subscribe to (or have a pending order for) Bell MTS TV or Bell MTS High Speed Internet. If you cancel your qualifying service, your long distance plan will change from the Home Phone Essentials Long Distance Plan to the First Rate™ Nickel Anytime Long Distance plan, which has a monthly $3.50 Network Charge. The Home Phone Essentials Long Distance plan's 5¢ a minute long distance rate is available anytime on direct-dialed voice calls within Canada and to the U.S. (including Alaska and Hawaii) and does not include Calling Card, Internet or data long distance minutes.
(4) Pricing is based on continued subscription to: Fibe TV Pick 6 and Fibe 50 Internet and Home Phone Essentials at $232.85/mo. less $152.85 credit for first 6 months; current price: $232.85/mo. less $10.00 bundle credit. Home Phone Essentials pricing is effective June 1, 2019, pending CRTC approval. Any change made to services may result in the loss of credits or promotions, as eligibility conditions may vary. Except as otherwise stated, your bundle discount will not be applied during any promotion or combined with other offers. Any portion of the Bell MTS Bundle Program may be modified, discontinued or terminated at any time. Only available to customers who have not had Bell MTS High Speed Internet, Fibe TV or Home Phone in the last 3 months. Customer eligibility based on specific service address and determination of eligibility shall rest solely with Bell MTS. Service available in select areas. Residential customers only.
Fibe, Fibe TV and Bell MTS are trademarks of Bell Canada.