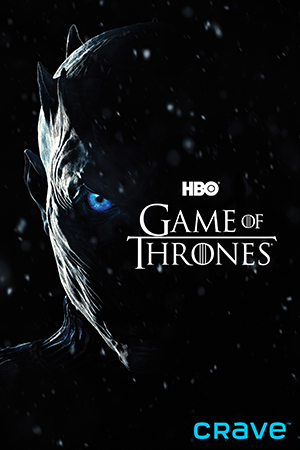 Game of Thrones, seasons 1-7
Experience the thrills and suspense of every past season of Game of Thrones, available on demand with a subscription to Crave + Movies + HBO.

Season 1

Season 2

Season 3

Season 4

Season 5

Season 6
Add Crave + Movies + HBO or the Movies and Series pack and get ready to watch the last season starting April 14.
Learn more
New releases
Us
Wonder Park
Hotel Mumbai
Asterix: The Secret of the Magic Potion
Slaughterhouse Rulez
Framing John DeLorean
Captain Marvel
Five Feet Apart
Captive State
The Mustang
Top 10
Captain Marvel
The Upside
Cold Pursuit
Isn't It Romantic
How to Train Your Dragon: The Hidden World
Fighting with My Family
Aquaman
Bohemian Rhapsody
The Mule
The LEGO Movie 2: The Second Part
What Men Want
Coming soon
Dumbo
June 25
The Hummingbird Project
June 25
The Command
June 25
Nightmare Cinema
June 25
The Kid
June 25
The Aftermath
June 25
TV1
Tailor and the Jets
How To Do Almost Absolutely Everything
Craft Canada
How To Get Beat Up
Clash of Pans
Winnipeg Film Group Presents
Doc Moose
Boys' Club
The Drift
McPhail Brothers Workshop
Growing up Skinner
Urban Eclipse: Rising Tides of Kekekoziibii
Subscription on demand

Get unlimited access to a selection of programs. You decide when the show starts and you control the action with pause, rewind, fast-forward and stop features.