Trade-in program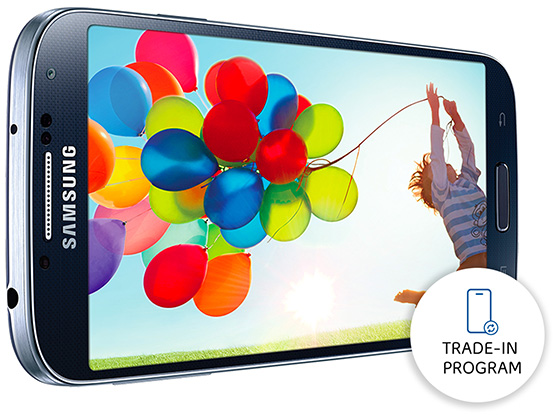 1. Find out how much your device is worth
2. Prepare your phone for trade-in
Back up:
Back up any personal data that you want to keep, such as contacts, emails, documents, pictures, videos and music. The phone cannot be returned to you after trade-in.
Deactivate account:
If applicable, remove the SIM card. If the phone doesn't have a SIM card, be sure to contact your service provider to deactivate its mobile service.
Remove memory cards:
If applicable, remove any memory cards.
Reset phone:
Delete all personal data by resetting the phone to the factory default settings. If you're not sure how to do this, a Bell MTS representative can help you reset your phone in-store.
Charge battery:
Ensure the battery is charged so that we can evaluate the phone's trade-in value.
You must be 18 years of age or older.
You must be the legal owner of the phone that you wish to trade in.
How will I be compensated for the value of my phone?
You will receive a trade-in certificate equal to the value of your phone.
Can I transfer my trade-in certificate to someone else?
The trade-in certificate you receive is non-transferable and has zero cash value.
Can I use my trade-in certificate at any time?
The trade-in certificate must be redeemed in-store at the time of trade in. Unused values are relinquished once you leave the store.
Once I have traded in my old phone, is it possible to get it back?
All trades are final. The phone cannot be returned to you at any time after it has been traded in.
What if my phone is valued at $0?
Some phones will be deemed as having no value depending on their age and/or condition.
Can I trade in more than one phone at a time?
We can only accept one phone per trade-in.
Can I trade in my phone at any time?
Whether you're an existing client or new to Bell MTS, you can trade in a phone at any time.
Do I have to sign up for a new contract when I trade in my old phone?
A new contract term is not required.
How long does the estimate last?
The value of a phone diminishes over time, so estimates change frequently. To get the most value out of your phone, visit a participating Bell MTS store today.
Do I need to include the phone charger or accessories?
No. Only the phone, battery and battery cover are required.
3. Find a store
Just bring in your phone or tablet to a participating Bell MTS store, where we'll assess it and give you its trade-in value towards your next device or accessory.