Awesome bundle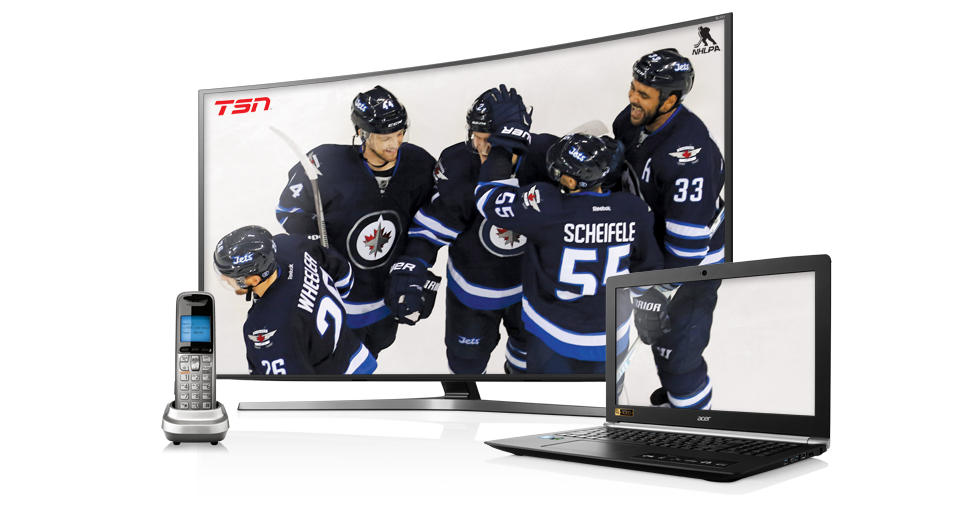 Switch to a bundle of awesome.
Bell MTS has a bundle of awesome built for Manitobans.
Just $80/mo. for a whole year for new customers.

Fibe Internet 50
Unlimited Internet means no overage charges
Up to 50 Mbps download speeds and up to 5 Mbps upload speeds

Fibe TV Basic Pack
Watch, record, or pause live TV with Whole Home PVR
Includes 63 channels
Home Phone Essentials Package
Reliable home phone service you can count on
Includes Call Display, Call Waiting and Call Waiting Plus
Awesome entertainment at less than half the regular price for 12 months.
80
2nd year price: $135/mo.
Ongoing price $163.85/mo.

Plus, get The Movie Network and CraveTV free for the first 3 months (regular price $25.99/mo).
Call 204-225-5687 or
visit your nearest Bell MTS store.
Things to know
Limited time offer, subject to change without notice. Conditions apply. Customer eligibility based on specific service address and determination of eligibility shall rest solely with Bell MTS. Service available in select areas. Customer must not currently have Fibe TV, High Speed Internet or Home Phone services. Terminating one service from promotional deal or dropping below the minimum required levels results in remaining services reverting to then-current prices. Regular price at the conclusion of the promotional period is subject to change. To change your plan after the promotional period has ended, call 204-225-5687 or service will continue at then-current prices. Actual speeds may vary and are not guaranteed. This service is subject to our Internet Usage Policy – visit bellmts.ca/internetusage and our Fair Use Policy – visit bellmts.ca/fairuse for details on our network management practices. CraveTV™ and its associated designs are trademarks of Bell Media Inc. Fibe, Fibe TV and Bell MTS are trademarks of Bell Canada.
Geographical restrictions and other conditions apply. Residential customers only. Not available where CRTC-regulated. Offers and rates subject to change at Bell MTS's option and without notice. Call us for details. The Home Phone Essentials Plan is comprised of two components: a Residential Voice and Feature Bundle Lite and the Home Phone Essentials Long Distance plan. The Residential Voice and Feature Bundle Lite includes a waiving of the installation charges, excluding jacks, associated with regular home phone installations or transfers of service provided you keep the plan for a minimum of 90 days. If you cancel or become ineligible for the plan within the first 90 days, you will be responsible for repaying such installation charges. New jack installation fee of $40 per jack. In order to be eligible for the Home Phone Essentials Long Distance Plan, you must subscribe to (or have a pending order for) Bell MTS TV or Bell MTS High Speed Internet. If you cancel your qualifying service, your long distance plan will change from the Home Phone Essentials Long Distance Plan to the First Rate™ Nickel Anytime Long Distance plan, which has a monthly $3.50 Network Charge. The Home Phone Essentials Long Distance plan's 5¢ a minute long distance rate is available anytime on direct-dialed voice calls within Canada and to the U.S. (including Alaska and Hawaii) and does not include Calling Card, Internet or data long distance minutes.
* Promotional price of $80/ month is for the first 12 months, promotional price of $135/month is for the next 12 months and then may revert to then-current pricing.