Picks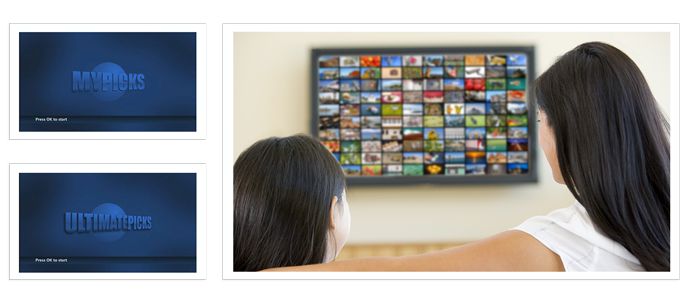 Bell MTS Ultimate Picks and My Picks, an enhanced viewing experience that allows you to watch multiple channels on one screen simultaneously.
Order now
Ultimate Picks - Channel 92
Keep track of up to six channels at one time on one screen. Channel selection and channel order are pre-determined by Bell MTS.
Visit Ultimate Picks - How to Use for instructions.
My Picks - Channel 93
Create and save up to five unique 'Picks'.
For each My Pick you can select:
Layout
Channels and channel order
My Picks - now included when you subscribe to Bell MTS Fibe TV.
Visit My Picks - How to Use for instructions.
View additional details
*Single upgrade covers all set-top box upgrades at one address. If you choose to have your set-top box upgraded by a Bell MTS technician, an additional $70.00 fee will apply. If you self-install, or add the upgrade installation as part of a new TV install appointment, the $70.00 installation fee is waived. Upgrade fee will not be refunded if service is cancelled. Equipment remains property of Bell MTS and must be returned if service is cancelled or replacement cost applies. Upgrading to the larger hard drive will cause all recordings on the PVR to be erased.