South Asian Home Services Promotion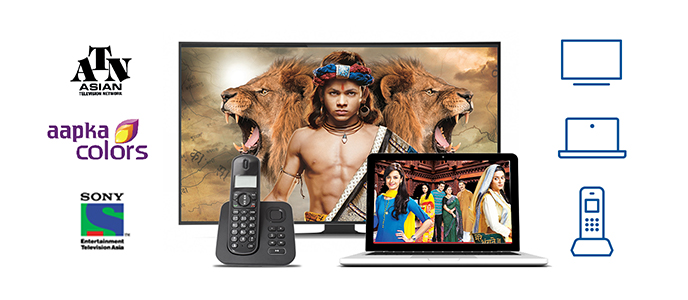 a month for the first 6 months
Regular price $184.00 a month
Get your favourite South Asian channels and the Unlimited India Plan free for 6 months when you sign up for Bell MTS Ultimate TV®, Internet, and Home Phone.
Ultimate TV Basic Pack
63 channels (23 in HD)
Whole Home PVR service and one set top box rental
ATN, Sony TV and Aapka Colors free for the first 6 months
High Speed Internet Lightning 25
Unlimited Internet usage
Download speeds of up to 25 Mbps
Free in-home Wi-Fi
Home Phone Essentials
Unlimited local calls
Call Display, Call Waiting, and Call Waiting Plus
Unlimited India Plan free for the first 6 months
Things to know
Offers are valid for a limited time and subject to change. Available to customers who are currently not with Bell MTS. Conditions apply – see store for details. Unless you inform Bell MTS in advance, you will be charged for the 3 multicultural channels and Unlimited India plan at the end of the six month promotional period at the then-current price. To make changes to your service after the promotional pricing and bonus, you must call Bell MTS or the services will continue and monthly charges will apply at the then-current price. Service available in select areas. TV: Channels, packages and regular pricing are subject to change without notice. Free installation (standard TV installation charge of $25 is waived). Additional wired set-top boxes can be rented for $3.00 a month per box. Additional wireless set-top boxes can be rented for $6.00 a month per box. Equipment remains property of Bell MTS and must be returned if service is cancelled or replacement cost applies. Internet: Internet service subject to our Internet Usage Policy – visit bellmts.ca/internetusage for details. Actual Internet speeds may vary and are not guaranteed. The security, confidentiality and privacy of wireless communications cannot be guaranteed. All plans are subject to our Fair Use Policy, which outlines our network management practices. General: Ultimate TV and Bell MTS are trademarks of Bell Canada. All other trademarks are property of their respective owners.