Multicultural Channels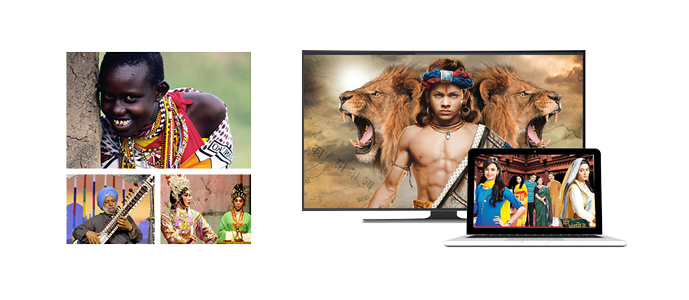 Bell MTS has a wide variety of multicultural channels that offer programming in several different languages.
Connect with loved ones abroad: Long Distance International Rates.
Multicultural Channel
Channel Number
Channel Description
Price per Month

ATN

501
ATN, the Asian Television Network, broadcasts exceptional South Asian television in English, Hindi, Urdu, Punjabi, Tamil, Gujarati and more. Programming highlights include movies, dramas, live events, and special events.
$16.99

Deutsche Welle

502
Deutsche Welle (DW) is Germany's international broadcaster that offers news, features and documentaries covering everything from business, science and politics, to arts, culture and sports. Each day, DW features 20 hours of programming in German and 4 hours in English.
$5.99

Odyssey

503
Odyssey is your best source for Greek television. Broadcast directly from Greece, Odyssey offers movies, music, sports, news, informative local programming, family, and educational programs.
$16.99

B4U Movies

504
B4U Movies gives you a 360 degree view of Bollywood, with hit movies and up close and personal programs on your favourite Bollywood stars.
$6.00

Aapka Colors

505
Aapka Colors is one of India's leading Hindi entertainment channels. Dedicated to its promise of wholesome viewing for the entire family, Aapka Colors features a mix of fiction, blockbuster movies, reality and formatted shows. A subscription to ATN is required for Aapka Colors.
$6.00

Fairchild Television

506
Fairchild Television caters primarily to Cantonese-speaking Chinese Canadians with daily news, locally produced current affairs programs, talk shows, plus imported drama and cultural programs. Order Fairchild Television with Talentvision for only $24.99 a month.
$19.99

GMA Pinoy TV

507
GMA Pinoy TV offers the most popular shows in the Philippines including: blockbuster movies, telenovelas, variety, news, public affairs, and comedies. Two Filipino radio stations - DZBB channel 798 and DWLS channel 799 are also included with GMA Pinoy.
$9.99

GMA Life TV

508
Get a second serving of GMA network's top-notch programming. The most exciting, refreshing, and innovative lifestyle channel that shows the latest in food, fashion, healthy living, travel, showbiz news, and talk shows that are uniquely Filipino.
$7.99

TFC - The Filipino Channel

509
TFC - The Filipino Channel - brings Filipinos closer to home by offering shows reflective of Filipino cultures and values. Watch locally-produced game shows, sitcoms, dramas, news and current affairs programs that provide the unique chance of reconnecting with the Philippines. Two Filipino radio stations – DZMM channel 794 and DWRR channel 795 are also included with TFC – The Filipino Channel.
$14.99

Zee TV Canada

511
Zee TV Canada is a Hindi-language family television experience that features a blend of fiction and non-fiction shows starring renowned names and brings to you the best of Indian culture.
$6.00

Sony Entertainment Television Asia

510
Sony Entertainment Television Asia is a Hindi-language channel dedicated to provide the best in family entertainment, with an impressive line-up which ranges from the supernatural to the light-hearted, from talk shows to lifestyle improvers and from the most glamorous events to legendary blockbusters. A subscription to ATN is required for Sony Entertainment Television Asia.
$7.99

TV Polonia

515
TV Polonia is the premier Polish-language channel and provides a variety of popular programs such as movies, sports, entertainment, soap operas, documentaries, masterpiece theatre, children, and educational programming as well as the latest news. Polskie Radio Jedynka & Trojka are also included with your subscription. These radio stations provide diverse voices, global perspective, music, and cultural events in Polish.
$21.99

CBN - Commonwealth Broadcasting Network

516
CBN features programming from the Caribbean and live Cricket coverage from around the world.
$6.00

Univision Canada

517
Univision Canada is the leading Spanish-language television channel in the country delivering the best programming from the Hispanic world. The network's programming lineup features daily news, award-winning telenovelas, talk and reality shows, live music specials, and top soccer coverage.
$7.99

RTR Planeta

518
RTR Planeta is a Russian-language network that features news, sports, cultural programs, feature films, and documentaries and offers the best programming from leading Russian channels Kultura and Rossiya.
$11.99

ProSiebenSat.1 Welt

519
ProSiebenSat.1 Welt is a uniquely modern general-interest German-language TV channel that offers movies, popular series, folk music shows, award-winning comedies, and a variety of other exciting shows and lifestyle programs.
$11.99

Talentvision

520
Talentvision is a Mandarin-language channel that offers a mix of cultural, educational, news, and lifestyle programs produced locally and imported from Mainland China and Taiwan.
$9.99

Rai Italia

522
Rai Italia is an Italian-language channel devoted to those who love Italy, Italian culture and history. Offering some of the best Italian television productions, Rai Italia features a mix of news, entertainment, drama, current affairs, and the arts.
$6.00

GMA News International

524
Powered by the leading network in the Philippines, GMA News TV International provides Filipinos the latest, most comprehensive and credible news from home.
$4.00

FTV

525
FTV (Filipino TV) is a Tagalog-language movie/general entertainment channel and is the new leader in high quality Filipino programming direct from the Philippines. Programming includes: movies, music videos, talk shows, reality series, and concerts.
$10.00

TV Japan

526
TV JAPAN is a premium Japanese-language network providing programs direct from Japan. The core programming is mainly from NHK, Japan's leading broadcaster, and includes NHK live news, documentaries, movies, dramas, sports and popular Japanese programs from other various networks. TV JAPAN is the channel for Japanese entertainment!
$24.99

German Kino Plus

529
German Kino Plus is a top rated 24/7 German channel that features the best of theatrical film, television series, documentaries and classic film. German Kino Plus offers a wide selection of entertainment featuring the best of what Germany has to offer.
$5.00

Kapatid TV5

530
Kapatid TV5 is a 24-hour general entertainment Tagalog language channel. Programming includes drama, fantasy, comedy, variety, game shows, gag shows, reality and news and current affairs. With the reputation of providing cutting-edge and trend-setting programming, Kapatid TV5 prides itself in its ability to capture the pulse of the Filipino people.
$5.00

Schlager

531
Schlager TV is the first German Music Station from Holland. Launched in 2008, Schlager TV viewers enjoy the music, the culture and the beautiful landscapes from the "Land of the Alps". 90% of its programming is popular folk music hits from Austria, Germany, Switzerland, and Northern Italy.
$4.00

TVP Info

532
TVP Info is the most popular Polish news channel. It offers the widest source of information, presenting news from Poland and all around the world. Due to its regional divisions located in 16 of the most important Polish regions, it presents news from Poland as it happens, where it happens.
$4.00

RTVi

533
RTVi is a Russian language service with a programming line-up which includes movies, soap operas, cultural programs, news, public affairs, live coverage of local events.
$7.00

PTC Punjabi

534
PTC Punjabi in Canada is a premium 24 hour Punjabi language general entertainment and news television channel with 16 plus hours of daily fresh programming from No 1 group of Punjabi TV networks (PTC) from India, combined with locally produced Canadian programs of interest to Punjabi community.
The mission for PTC Punjabi in Canada is to reach Non-Resident Punjabis and lovers of Punjabi religious, news and entertainment content in Canada and help them connect with their roots. PTC Punjabi will provide exclusive religious programming from the Golden Temple (Darbar Sahib), news, entertainment, culture, current affairs, events, educational, and spiritual programming including highly sought after Punjabi music.
$7.00
View additional details
All pricing listed represents a per month subscription price. For Aapka Colors and Sony Entertainment Television Asia, a subscription to ATN is required. Fibe TV and Bell MTS are trademarks of Bell Canada.