International Data Passes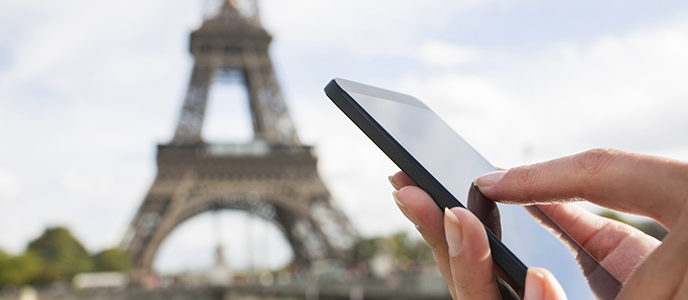 Travelling overseas? Stay connected and save with International Data Passes.
Order now
When travelling outside of Canada, you will be given options to purchase Data Passes on your wireless device when you choose to start a data session. This will give you the flexibility and control to choose how much data you would like to use on any given trip. The options will allow you to manage your spending by selecting the Data Pass that's right for you, based on the amount of data required or the amount of money you wish to spend. When the Data Pass expires (if all the data has been used, or the expiry date has passed), you will be asked if you wish to buy another one.
International Data Passes
| Price | Amount of Data | Duration |
| --- | --- | --- |
| $30 | 5 MB | 30 days |
| $80 | 15 MB | 30 days |
| $130 | 30 MB | 30 days |
| $255 | 80 MB | 30 days |
For use within International Destinations (includes Europe, the Caribbean, Latin America, Asia & Oceana, the Middle East and Africa).
If you are travelling outside of North America (Canada, U.S., and Mexico) and want to take advantage of the local networks in that country, we will unlock your device free of charge providing you've had Bell MTS wireless service for 90 days and your account is in good standing. Visit Unlock Your Bell MTS Mobile Device for Use with Other Carriers for more info.
Cruise Ship / Satellite Data Pass
| Price | Amount of Data | Duration |
| --- | --- | --- |
| $150 | 5 MB | 30 days |
View additional details
Available for all wireless handsets and wireless Internet devices that have Bell MTS data services enabled. Customer understands and acknowledges that consenting to the purchase of a data pass or combination of data passes may put them over the CRTC mandated cap. Available to Bell MTS Regionally billed customers only – nationally billed customers are not eligible for these passes. The International Data Pass will not apply when used for roaming on cruise ships or at satellite locations (i.e. locations without wireless service). Bell MTS is a trademark of Bell Canada.