Business Team Share Plans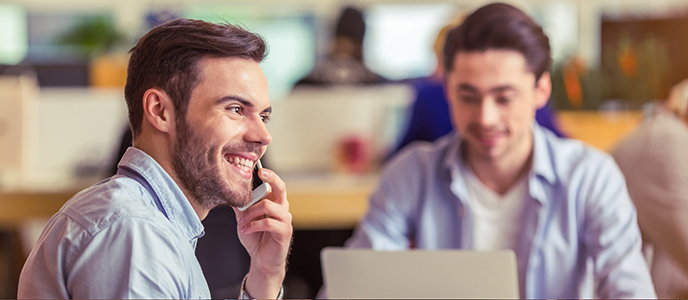 Share data easily across devices.
Our plans help you save money and are flexible to accommodate the changing needs of your team.
Order now
Business Team Share calculator
Start with two smartphone plans and add any other devices you want: smartphone, tablet or voice device; no maximum.
1. Choose your plans
If you require more than 25 plans please contact us or visit a Bell MTS store.
| Type | Quantity | Total Monthly Price |
| --- | --- | --- |
| Smartphone – Team Share info | @ $55.00 | - |
| Smartphone – Team Share Select info | @ $75.00 | - |
| Tablets | @ $10.00 | - |
| Total Data Sharing Units | - | |
| Voice Only PlansClick for more detail | @ $50.00 | - |
2. Choose your data
All Business Team Share data options are Canada-wide data and include tethering. At least one data option is mandatory.
Type
Quantity
Total Data
Total Monthly Price
5GB
@ $15.00

-

-

10GB
@ $25.00

-

-

15GB
@ $35.00

-

-

50GBClick for more detail
@ $100.00

-

-

Total

-

Average data per data sharing unit

-

Reset Calculator
Average monthly price per unit
3. How to sign up
Print your Business Team Share Plan details and bring it to a Bell MTS store or speak to your Bell MTS Account Manager to sign up today.
Ask how you can save off your monthly price with a Corporate Service Agreement.
Printer

Print your Business Team Share plan
Tell us what you think about the Business Team Share Plan calculator
View additional details
$100 bill credit will appear on your first Bell MTS wireless bill and is available only to customers new to Bell MTS wireless service - defined as customers who are porting their wireless number to Bell MTS or activating new Bell MTS wireless service with a new phone number. Must enter a 24-month wireless contract for savings to apply. $200 hardware credit will be applied at time of sale towards the price of new device. Credit value shall not exceed price of the hardware. Cannot be combined with 10% discount for bringing in your own device. See Bell MTS store for details. Service is subject to technical and network limitations. Bell MTS is a trademark of Bell Canada.
All plans are subject to our Fair Use Policy, which outlines our network management practices. Offers are for a limited time and are subject to change without notice. Conditions apply. Available for all 4G wireless handsets. Minimum two smartphone or premium smartphone plans required to take a Business Team Share Plan. Voice Only plans will not share in the data allotment. U.S. Data roaming charged at $3/MB for customers not opted into Data Passes. Each option comes with a Data Overage Rate of $15/GB. Includes tethering.