Early Cancellation Fee Calculation/Monthly Reduction Value
Whether you're upgrading your device early or terminating your wireless service altogether, you may be subject to an early cancellation fee.
If you received a hardware subsidy when signing a Wireless Service Agreement, the total early cancellation fee (TECF) will be calculated as so:
$ Retail Value of Hardware
Amount Paid by Customer
Hardware Subsidy and also the Total Early Cancellation Fee (TECF)
The TECF is then divided by the contract term (in months), which results in the monthly reduction value (MRV):
Total Early Cancellation Fee (TECF)
Contract Term (in months)
Monthly Reduction Value (MRV)
The TECF will decrease by the MRV on a monthly basis until it reaches $0 as of the Contract Term Expiry Date specified within your Wireless Service Agreement.
If you cancel your Wireless Service Agreement early, the TECF is used to calculate the cancellation fee due at that time of cancellation.
An example:
A customer signs up for a 24-month contract and purchases a phone for the subsidized price of $199 (the outright purchase price is $599). The customer decides to terminate the contract after 12 months.
The hardware subsidy/TECF is $400:

$599 (retail value of hardware) less $199 (amount paid by customer) = $400

The MRV is $16.67:

$400 (TECF) divided by 24 months (contract term) = $16.67

In this example, the cancellation fee owed by the customer is $199.96:

TECF less the value of the completed months of the contract
$400 – (12 x $16.67) = $199.96 cancellation fee due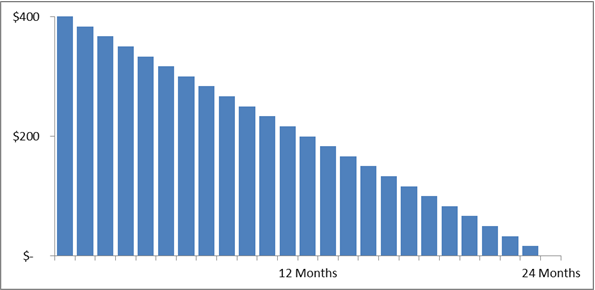 The early cancellation fee will appear within the wireless section of your bill listed as a Termination Charge within the additional unit charges of the bill.