Phishing
If you receive an unexpected email from someone claiming to be from Bell MTS which asks you for personal information such as your username, password, identification or banking information, please be aware that:
The sender of this type of email is not actually Bell MTS.
This type of fraudulent email is called "phishing".
What to Look for: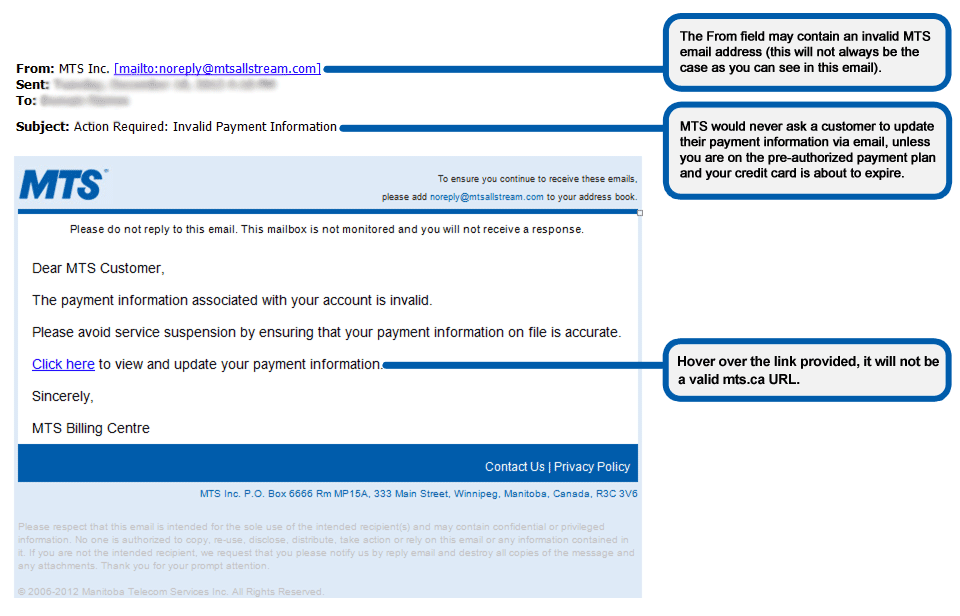 Bell MTS values your privacy and will never ask you to share personal information or identification like a password, banking or other similar personal information via email.
Should you receive an unexpected email message from someone claiming to be from Bell MTS asking for such personal information, please follow these three simple guidelines:
Do not respond to the email or share any personal information with the sender. (Note: Any response will confirm that your email address is active which could lead to more phishing attempts.)
Do not click on any links contained in the email.
Delete the message from your Inbox.
If you have read this message and followed the steps above, you will not need to take any further action.
If you have responded to a phishing email:
What is Phishing?

Phishing is a type of scheme that uses fraudulent email and web pages to gather personal, financial and other sensitive information for the purpose of identity theft. Most commonly, email users receive spam email (mass email messaging) that appears to come from legitimate businesses. People have been tricked into sharing personal information such as passwords, Social Insurance (SIN) numbers or banking information.

How do I know if I've received a phishing email?

Phishing is the process of attempting to acquire sensitive information such as usernames, passwords, banking information or personal information by posing as a trustworthy company in an email communication. These emails often direct you to a fake website made to look official. It will also contain a form to confirm your information and will tell you that your account will be terminated if you don't respond within 24-48 hours.

Email communications from Bell MTS will never take you directly to a login form or ask for sensitive information via email, other than a link to: http://myaccount.mts.ca. When clicking a link in an email, always hover over the link to ensure it has the same address as what is written in the email. For example, links in email communications from Bell MTS will always start with http://www.bellmts.ca or http://myaccount.mts.ca and not alternate web addresses. For the purposes of Email Transition communications from Bell MTS, we have included the postal code associated with your Internet account billing address.

If you are unsure about the validity of an email, you can access more information by opening a browser window and typing in the URL indicated in the message.

How does phishing work?

Phishing emails are often sent out as spam to numerous recipients and appear to come from legitimate businesses, sometimes even duplicating legitimate logos and text. Within the message, you may be asked to click on a link that takes you to a fraudulent site where you are asked to supply personal or financial information. Messages may imply a sense of urgency or immediate risk if you fail to answer. Special offers and prizes may also be promoted as incentives to follow their instructions.

How can I tell the difference between a legitimate message and a phishing message?

It can be very difficult to tell the difference between a legitimate and phishing message. Sophisticated phishers can reproduce corporate logos and copy corporate websites making the message seem genuine.

But, there are some warning signs to look out for, such as:

The message is unexpected. You did not initiate contact with the organization.
The message is from an organization you do not deal with.
The message is asking you to send back via email identification, financial or account information that the organization would either already have or would not ask for via email.

More information about phishing