SIM Cards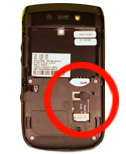 What is a SIM Card?
A SIM card is a small card that is inserted into your wireless phone to allow it to work on the 4G or LTE wireless networks. Depending on your phone, you may also be able to store your contacts and other information on your SIM card, making it easier to switch phones next time you upgrade your hardware.
Please visit a Bell MTS store to activate your Bell MTS SIM Card.
Important Reminder: We strongly recommend you password protect your SIM card by changing it from the default PIN to a unique password known only to you. Please change your password once your card is active. Your SIM card holds personal information about you and your contacts. See your manufacturer's guide for details.
If the wrong PIN is entered three times, your SIM card will be locked. If this occurs, Contact Us to have your password reset.
Note:
Check Wireless Device Support or your device's user guide for specific instructions for inserting your SIM Card.
What happens if I lose my SIM card?

Visit our Store Locator to find the nearest Bell MTS store, or Contact Us immediately to let us know that your card has been lost or stolen to avoid unapproved charges.

You will need to visit an Bell MTS store to purchase and activate a new SIM card to continue using your phone.

Can I put my Bell MTS SIM Card in another wireless carrier's phone?

There are two types of phones: locked and unlocked. If your phone is locked, it will not work with an Bell MTS SIM card.

If it is unlocked, you may be able to use your Bell MTS SIM card, however we do not guarantee the same quality of service.

Can I put another wireless carrier's SIM card in an Bell MTS phone?

If your phone supports the GSM or HSPA network of the other carrier it will work with their SIM card, for details please refer to Unlock Your Bell MTS Mobile Device for Use with Other Carriers.

Your Bell MTS SIM card also contains important Bell MTS Customer Service contact numbers. You will be able to access these phone numbers through the SIM phone book available within your contact list.

Terms and Conditions

*Bell MTS standard wireless terms of service will apply to your use of Bell MTS wireless service with your SIM card. Visit your nearest Bell MTS store or review our wireless terms and conditions for details.