Accessing the Commercial Web Hosting Service
How do I access the improved service?
As soon as your website is upgraded to the new platform you will be able to access the improved service using the existing login process.
Login in to "My Internet Account" using your existing user name and password.
Once you are in My Account click on Commercial Web Hosting to start using the improved service.
FTP Users:
For customers who manage their website files using a third party FTP (File Transfer Protocol) application, please read the following changes to the login process:
FTP Login instruction for the existing CWEB platform:

Host Name: ftp.mts.net
Username: your existing user ID
Password: Your existing password

FTP Login instruction for the NEW CWEB platform:

Host Name: ftp.mydomain.com
Username: mydomain.com
Password: Your existing password
Example:
If your domain name is ABCconsulting.com then you will have to type the following to login using an FTP application:
Host Name: ftp.ABCconsulting.com
Username: ABCconsulting.com
Password: Your existing password
FileZilla: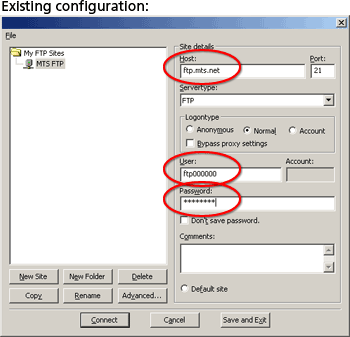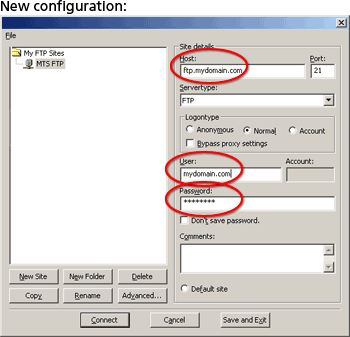 ---
WS-FTP: