How to create an alias for your mymts.net email address
Share a separate email address with friends and family by creating an alias account. You don't have to create a new email account and emails sent to an alias are then sent to your main @mymts.net email account. Each Bell MTS Mail account can have up to 5 aliases.
Go to mtsmail.ca.
Enter your email address and password.
Select Alias Settings from the left side menu.
Enter your new alias name in the window and click Add.
Note:
All aliases are created on the @mtsmail.ca domain.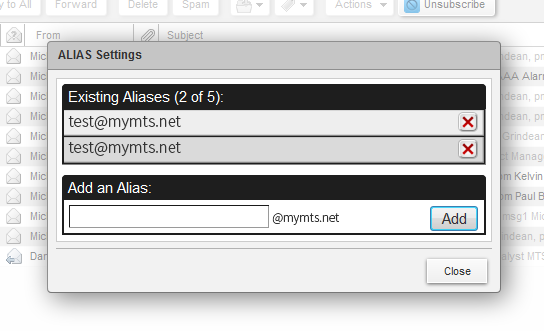 How to use your alias to send emails
Click on the Preferences tab.
Click Accounts in the left side menu.
Click the Add Persona button.
Enter a Persona Name.

Note:

This is a name that will help you identify what persona you have active.

Choose a name to appear in the From section of your emails.
From the dropdown menu, select the Alias you want associated with this persona.
Click Save in the top left corner of your screen.
To use your new persona/alias to send an email, select the persona from the dropdown menu in the "from" section of the email composer.
Note:
If the From field is not displayed, log out and back into Bell MTS Mail to refresh the site.